We expertly engineer custom-designed, weather proof and shock-proof packaging for shipments large and small. Our knowledgeable Account Executives provide outstanding client communications and personal attention to detail.
Our secure facility has the necessary equipment and personnel needed to package and prepare your shipments for export and domestic travel. We offer several stages of packaging based upon your specific needs.
Packing Methods & Specialized Packing
All of our packaging methods utilize the quality assured global standard of ISPM-15 rated lumber.
Standard Export
All of our packaging is custom designed to the weights, dimensions and configuration of your equipment.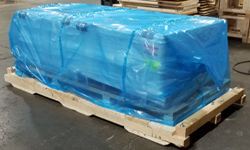 VCI (Vapor Corrosive Inhibitor)
All the features of Standard Export Packaging with added protection in moisture sensitive climates that have constant temperature fluctuations resulting in condensation.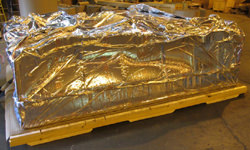 MVP (Moisture Vapor Proof)
Jan Global's premier level packaging. Updated form of Method II Packaging, MVP Packaging will waterproof and protect your cargo for the duration of the storage and shipment.
Heat Shrink Wrapping
This form of protection is ideal for sealing your cargo, either by itself or after it's packed as a final layer of protection. We offer Heat Shrink Wrapping as a standalone service as well as an addition to above packaging methods.
Specialized Packaging
Jan Global offers specialized packaging based upon our clients exact needs. We understand that not all cargo is the same and we offer any combination of services to reflect that. Tip and Tells and Shock Watches monitor the safe travels of your cargo while it is in-transit. Shock Mounting (To prevent damage from sudden shifts in position or vibrations) is available as an added layer of protection.